Why is it that when you ask Siri "what's the best cellphone ever?" (or "best mobile phone ever" or "best smartphone ever") that it responds with "the Nokia Lumia 900"?
Quite simple: because Siri hands the query (being non-weather-related) off to the Wolfram Alpha search engine, which pulls its data in from Best Buy, where the Nokia Lumia 900 had a total of five - count them - favourable reviews.
Here, go and have a look: "best cellphone ever", "best mobile phone ever", "best smartphone ever".
In each there's a link: "user rating: 5 out of 5 (based on 4 reviews)".

Unfortunately even that isn't accurate. If you look at the page that that links to, it says that it has a rating of 4.4 out of 5, from 11 reviews. So Wolfram Alpha isn't quite keeping a live feed on this.
But… if you look at it, the latest reviews date from 11 April - which is when this all blew up. Be suspicious of those reviews. The earliest ones are more trustworthy, but even those might not be as believable as you might want.
The next up? The LG Tracfone - a $19.99 phone (this comes up whether you ask for a "smartphone", "mobile phone" or "cellphone". WolframAlpha says it's 5/5 - based on 1 review.
But no, even that isn't right. There are two reviews, of which one is a 5-star (yay!) posted on 16 March and the other is a 1-star posted on… 11 May. Ah, the same day that this Siri thing came up. So that's probably not a "real" review.
Whatever - it's a nice meme, but it doesn't bear fact-checking.
Kudos for pointing all this out goes to MG Siegler, who points out how difficult it is to swim upstream through the meme to get back to the original source:
After a series of never-ending clicks, I believe I was able to trace this "story" back to its roots. Dalrymple linked to AppleInsider, which links to TheNextWeb (hi Robin!), which links to ZUnited, which links to WMPoweruser.
So - a fun story, not entirely supported by the facts.
(Revel in it anyway. Here's the photo, in small form, from WMPoweruser.)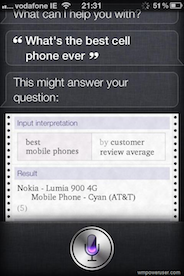 But it does tell us a couple of things.
First: some people get very worked up about what smartphone they're using. (See how people are trying to game the reviews more recently to push the rankings down.)
Second: expect to see more of this kind of thing as people probe WolframAlpha to see what answer gives for "best X ever" that doesn't offer an Apple product ("best MP3 player ever" isn't going to fit the bill, but "best computer ever" will!)
Third: savvy marketing people are going to start gaming reviews like this to push their phones up rankings. Actually, you'd expect this is happening already, wouldn't you?
Fourth: hope that WolframAlpha to have a rethink about whether trying to answer "best X ever" is much use. Or whether BestBuy's customer reviews section is actually the place to ask.